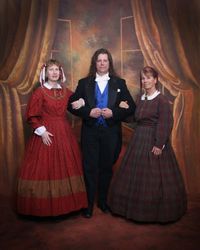 Shove The Pigsfoot A Little Further In The Fire was featured in the movie Cold Mountain, a Nicole Kidman, Jude Law vehicle set in the southern US during the Civil War.  I first ran across it at a jam session in Elkins, WV in a set of tunes billed as "the animal cruelty set."  The pigsfoot referenced in the title is a blacksmithing tool shaped like a pig's foot, however.  No pigs were harmed in the making of this CD!
       Spotted Pony is another great Old Timey dance tune I got from Mike Rovine who probably got it from Fuzzy Mountain String Band.  You'd have to ask him if you want to know for sure.  Patty really likes this one since she loves her spotted pony. 
        In between these two tunes is an E minor pentatonic jam which sort of evolved over time into a Rock & Roll / Blues thing with a Latin beat.