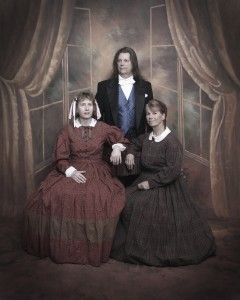 "Hard Times Come Again No More: Published by Firth, Pond & Co., the song was copyrighted January 17, 1855, but the title page bears the date 1854.  It was probably published late in 1854 and then copyrighted in January 1855.
         Morrison Foster tells the story of Olivia Pise, a maid in the Foster household, who was a member of a church for coloured people.  He writes, 'She was permitted to often take Stephen to church with her.  Here he stored up in his mind 'many a gem of purest ray serene,' drawn from these caves of negro melody.  The number of strains heard there, and which, he said to me, were too good to be lost, have been preserved by him, short scraps of which were incorporated in two of his songs, Hard Times Come Again No More and Oh! Boys, Carry Me Long.'" – Songs of Stephen Foster, Edited and arranged by Will Earhart and Edward B. Birge, University of Pittsburgh Press, 1953.
          Hard Times Come Again No More may be my favorite Stephen Foster song.  I first heard the Red Clay Ramblers' a' capella version back during the Bluegrass scare of the '70's.  Their version actually made the local AM radio charts!
          Our version includes the full band instrumentation with guitar, Appalachian dulcimer, concertina and a fiddle overdub.   We sing a 4 part vocal harmony, also including one vocal overdub.
          I think this song shows Foster's tremendous connection to basic humanity.  His lyric recognizes that there are always those less well-off in the world and urges compassion in the heartfelt title of the song.  This is what makes the song timeless, in my estimation; it applies as much today as it did when he wrote it.
          For more information on Stephen Foster's publishing timeline:
  http://pdmusic.org/foster.html
  http://songwritershalloffame.org/songs/detailed/C10 
          To download a copy of his biography: 
http://books.google.com/books/download/Stephen_Collins_Foster.pdf?id=NvIHAQAAMAAJ&hl=en&capid=AFLRE72KX5fMjqMPnYgxgp1q_4xP9ECLg7j8a3TASw5RNWD0YsrmdIwNCvk_-6cYWvmlx2ufTQYy399DK2nPBso37p-YjeeHhw&continue=http://books.google.com/books/download/Stephen_Collins_Foster.pdf%3Fid%3DNvIHAQAAMAAJ%26output%3Dpdf%26hl%3Den