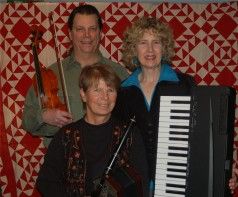 Maggie In The Woods is an old traditional Irish polka.  For some reason Irish musicians always seem to feel constrained to say "Kerry polka" when introducing polka sets even though almost every polka from Ireland is from County Kerry.  Who am I to mess with tradition?
        Little Flower is technically an American polka since I wrote it in 2010 while residing in Pennsylvania.  I did check with every Irish musician I came across for a year afterword to see if I was just remembering one of those old "Kerry polkas."  It turns out that it was not in anyone's repertoire or specifically remembered as in the tradition so I'll claim it as my own.  This track marks Peggy's debut as a hammered dulcimer player, too.
    The title refers to one of our pet cats, named Fleury, who had "tuxedo" markings and wandered into the house during the Stanley Cup hockey playoffs in 2009.  Fleury, Crosby and the Penguins won it all that year.
    There is also a jazz standard, Ma Petite Fleur, which has no relation to this tune.  Wikipedia says, "Petite Fleur is a successful instrumental written by Sidney Bechet and recorded in January 1952 with the Sidney Bechet All Stars.  In 1959 it was a big hit for Chris Barber's Jazz Band. Following the Chris Barber instrumental recording, lyrics were added by Fernand Bonifay and Mario Bua in the same year."
        The Year Of Jubilo is definitely American and from the time of the Civil War.  We all brought our own knowledge of this tune to the recording from independent sources.  The title refers to the coming of the rapture believed to be at the end of days by some Christians.  The song, which we don't sing, was composed by Henry C. Work in 1862 and anticipates the salvation of the slaves foreseen in the soon-to-be-signed Emancipation Proclamation.